Mohokare vows to keep ISO standards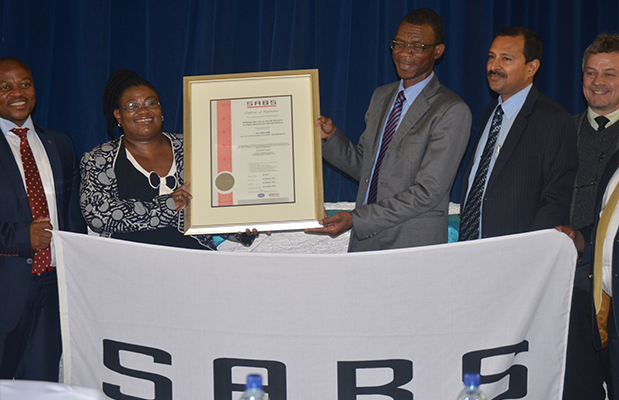 The Mohokare Local Municipality, which was this week granted International Organisation for Standardisation (ISO) certification, says it will not rest on its laurels but will step up efforts to deliver quality services to residents and in the process ensure its ISO certificate is not withdrawn.
The municipality that is located about 196km south-east of Bloemfontein was on Wednesday granted ISO 9001:2008 certification, in what executive mayor Mando Shasha said was recognition of efforts by her team to administer the local authority according to the high standards set by ISO for the benefit of residents and all stakeholders.
Mohokare is the first municipality in the country to implement ISO management standards in all its departments.
There are several other municipalities in South Africa with ISO certification but only for specific departments or functions.
"We are a small municipality – even our budget is only R200-million – so you can understand how small we are," Shasha said.
"We chose to apply for this certificate after a tough and sometimes tiring process of auditing of our services and procedures."
All municipal workers must now embrace a new work ethic of putting professionalism first and always seeking to ensure resident satisfaction if Mohokare is to retain its ISO certification, the mayor said.
"Now our workers will get to work at 7.30 in the morning and would have to quit playing on the internet and on Facebook and do real work so that we keep the standards we have set for ourselves so that this certificate is not taken away from us," she said.
The ISO certificate was handed to Shasha by South African Bureau of Standards (SABS) chief auditor, Frank Makamu, at the council chambers.
The SABS grants ISO certification in South Africa on behalf of ISO.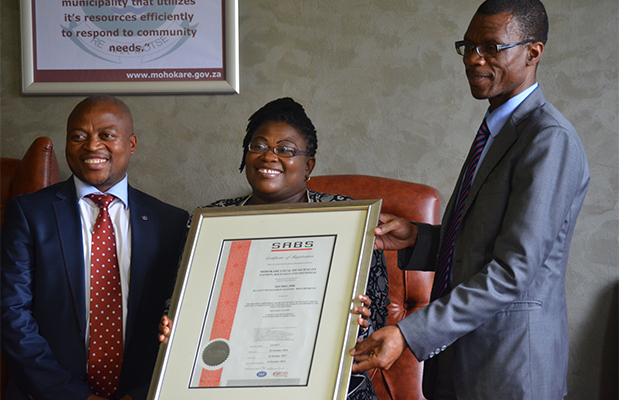 The SABS also audits certified organisations every year to ensure compliance and can withdraw the certificate where there is non-compliance.
Based in Geneva, Switzerland, the ISO is the leading organisation for standardisation in the world.
Its ISO 9001:2008 is a based on a number of quality management principles which organisations holding such certification are required to implement and uphold in all areas of their business and operations.
These, among others, include a strong focus on client or resident satisfaction and ensuring management is motivated and committed to ensuring the objectives of the organisation are linked to client or resident needs and expectations.
Thousands of public and private entities in more than 170 countries hold ISO certification which is usually granted on behalf of ISO by standards authorities such as the SABS or other such bodies in those countries.
Hailing Mohokare for achieving ISO certification, Makamu said acquiring the certificate was only the beginning of a long journey during which the municipality's services would be continually scrutinised to make sure they remain up to the standards stipulated by the world quality assurance body.
Makamu said what was more pleasing about local authorities getting ISO certification was the fact that beneficiaries of such achievement were the ordinary people residing in those municipalities.
"It gives us great pleasure as the SABS when we get applications for standardisation from municipalities, because the beneficiaries are the people," he said.
The SABS official also took the opportunity to hail Shasha's commitment to the betterment of her municipality and society, saying ensuring Mohokare was ISO-certified was the most effective way to make sure the high standards now being made the norm at the municipality would not disappear with the departure of the mayor and her leadership team.
"When people leave an organisation they take it with them, but when procedures are documented then those who are left behind just get behind the wheel and drive," Makamu said.
"Honourable mayor, good leaders are those who leave behind a legacy so that the people can go on even when they are not there."
Mohokare was founded in 2000 with the amalgamation of the three towns of Zastron, Smithfield and Rouxville.
The municipality has shown improvement in the handling of public funds and assets and was issued a qualified audit opinion for the 2012/13 financial by Auditor General Kimi Makwetu.
This was a significant improvement from the 2011/12 year when the auditor general issued a disclaimer because the municipality's financial statements were so materially defective or inadequate that the he was unable to and refused to express an opinion on the statements.